Phil and Terry
Kathryn and
Andre
Michael Fontana
Grant Fontana
Tom and Diana
Brandon Reed
Ryan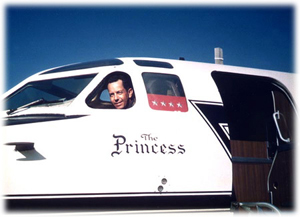 Thanks to my youngest for the gift of this web page and the permanent URL. I've had more than a dozen ISP's in the last 30 years and never have figured out how to transfer my address book from one to the next! Now, hopefully, I won't have to learn.


The picture on this page is one of me before I started dyeing my hair gray to keep it from coming in brown. In truth, it's MORE than 40 years old now, but still my son's favorite of me. I flew the airplane for 4 years in the late 1960's. It's a North American Sabreliner, NA-265, and a big brother to a Learjet. It doesn't climb quite as fast, and cruises about 20 knots slower, but is roomy enough inside so that you don't have to wear it when travelling from point A to point B. A wonderful bird, responsive and the same handling and airspeeds as the old North American F-86. It was criminal to install an autopilot in it, much too much fun to fly. As an aside, the poor Princess was destroyed in a mid-air collision with a Navy fighter over Virginia some 6 months after I retired.

The four stars were not mine either, they belonged to General Ted Conway, W4EII. He took the picture one afternoon upon return from a flight to the West Coast. The most gracious man I've ever known. CINC of Strike Command and basically General Schwartzkopf about 5 times removed. Four times in 4 years, we went so far around the world together it was easier to keep going than to turn around and come back, and I certainly got to see more of that world than I ever expected to. We both retired on the same day He threw a bigger party than I did, and I always liked to claim that he couldn't stand to stay in without me. We were close until his death in 1990.

Alice and I married in June 1946, and managed to somehow rear two handsome boys and two gorgeous girls. Alice has to take all the blame, while I was gallivanting around the world, she reared 4 great children. There are 6 grandchildren now, and as of the moment, 7 great grandchildren and our first great great grandson. (No other pets.)

In addition to flying, amateur radio has been part of my life for well over 60 years. I was initially licensed W9PJO, and also held KH6EMC in the early 60's. I have held some 25 foreign calls and operated from 28 countries. I have Ethiopian license number 3, General Conway had number 4 and I never did live that down. My Suriname license doesn't have an expiration date, I'm not sure whether it's still valid or not. I DO remember having our Indian Ambassador explain to me that I could NOT keep our VU licenses as mementos and had to return them for cancellation. We wound up bargaining for them to be returned AFTER cancellation to avoid some sort of International incident, but I sure hated to see them leave.

After retirement I worked with some very bright and talented engineers for the National cash Register Company for a year, designing and building the Signal One radio. After finding out that civilians counted the same way the military did, I owned and operated two small businesses catering to the electrical power generation industry for the next 18 years. Retiring again in 1987, Alice and I built a home and retired to a beautiful spot in the Carolina Mountains and have enjoyed a third career in grandparenting.